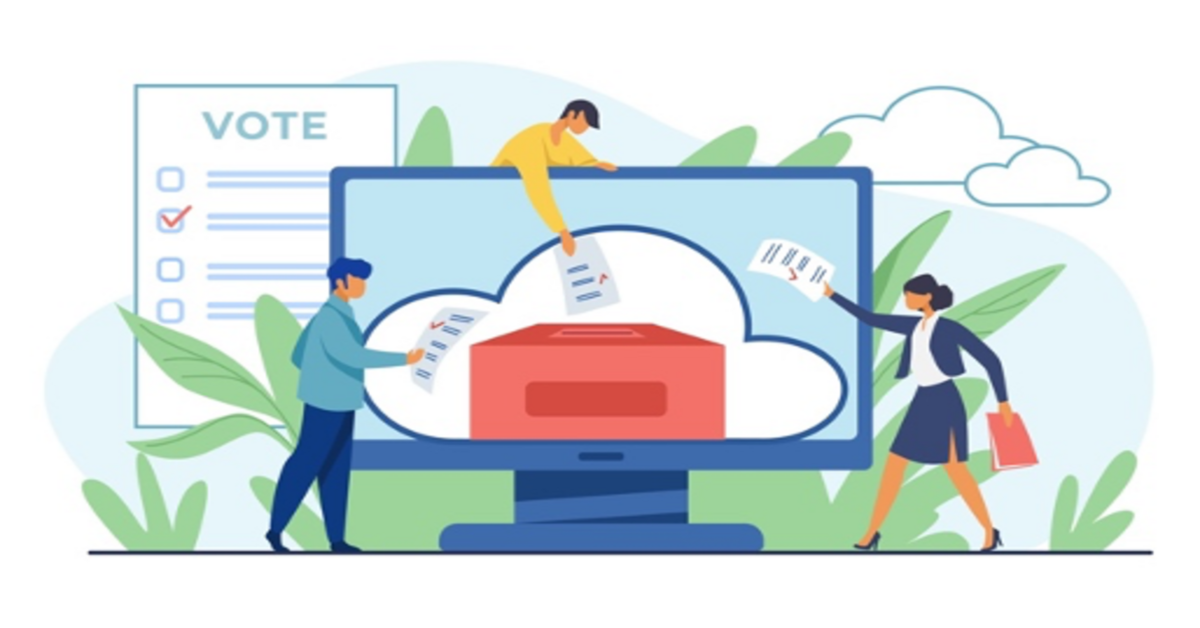 Here we want to emphasise on Best and Safe Election Practices during Covid-19. Coronavirus has disrupted every aspect of public life, leaving us exposed to a plethora of new challenges. The onset of Covid 19 halted election activities across India. It has also highlighted a tradeoff between the right to vote and health. In a democracy like India which has such a wide demographic composition of voters, it calls for a shift from the traditional voting practices to e-voting. With the surge in covid cases, the Election Commission of India issued guidelines on 21st August, 2020 for the conduct of elections. The guidelines laid down stringent compliance norms and safety protocols which are to be adhered to by the candidates, party officials and concerned authorities conducting the elections. The pandemic spilled out various challenges for the conduct of elections, whose very nature requires public interaction and mass communication. The government, in light of the prevailing situation has to now look beyond traditional methods of voting and adopt best election practices which positively impacts the voter turnout.
Election Voting softwares can prove to be useful for political parties to track real time clusters of voters and to implement campaign strategies at state and country level. Online voting systems provide means for direct public participation which amplifies community engagement. It requires voter's identity verification, allowing citizens to cast their votes from any location or device. Elections to be held in the shadow of pandemic, calls for resource intensive digital advertising in place of traditional practices of distributing pamphlets and putting up posters on billboards. Audiences can be targeted using tools of digital advertising like pop up ads on social media platforms, personalized text messages or emails. PR driven and technology backed political campaigns help voters make informed choices.
A mix of virtual and physical campaigns during the pandemic period is the best strategy to stay connected with the voters. For the first-time candidates will be allowed to deposit security money online for contesting elections at the designated platform. Rallies can be held physically with a limited audience maintaining social distancing and undertaking other safety measures enforced by the local authorities. Traditional door to door campaigns is also allowed with up to a team of five persons only and for roadshows, not more than 5 vehicles to be allowed.
The pandemic is unlikely to go away anytime soon due to which political parties will have to turn their offline campaign events into virtual ones to reach out to the masses. Holding e-rallies and live streaming speeches is an effective strategy to garner votes. Social media can be used to attract the attention of the voters and regular telecasts on such platforms will help them expand their voter base. To have an extensive social media outreach, parties must keep their followers updated about their stance on various social, economic, political and cultural issues.
India will have to focus on strengthening its "Digital India" initiative announced in 2015, in line with conducting elections. Introduction of technology-based methods of voting is essential to have an effective voter turnout in elections amidst a pandemic. This year the Election Commission also introduced a new category of 'absentee voters' who can opt for postal voting. This category includes voters who are unable to cast their votes due to their service conditions, voters who are Covid positive or Covid affected, differently abled citizens and senior citizens above the age of 65.
Such practices can be useful during times of unprecedented crisis, provided the authorities are able to fulfill the basic requirements of voting operations administration offices linked to each other by communication systems via phone, radio and that these offices are equipped with internet and voice communication facilities with voting stations under their control.
Citizens who feel comfortable casting their vote in person have the option to do so, provided they follow the safety protocols such as wearing masks, gloves will be provided to all voters to sign the voter register and press the EVM button to cast votes. Social distancing is of utmost importance and to ensure its enforcement, large halls must be identified and utilized.
With the world resuming all public activities and moving towards the "new normal", India should also start looking towards technology driven election practices. This would be the best time to explore, research and introduce an online voting system in India which can strengthen the democratic process of running elections. People queuing up to vote and gathering for rallies is not an indication of democracy but, continuing election affairs in a responsible and transparent manner is its backbone.